Tyler Rich, Travis Denning, Austin Jenckes and Ray Fulcher
Tyler Rich, Travis Denning, Austin Jenckes and Ray Fulcher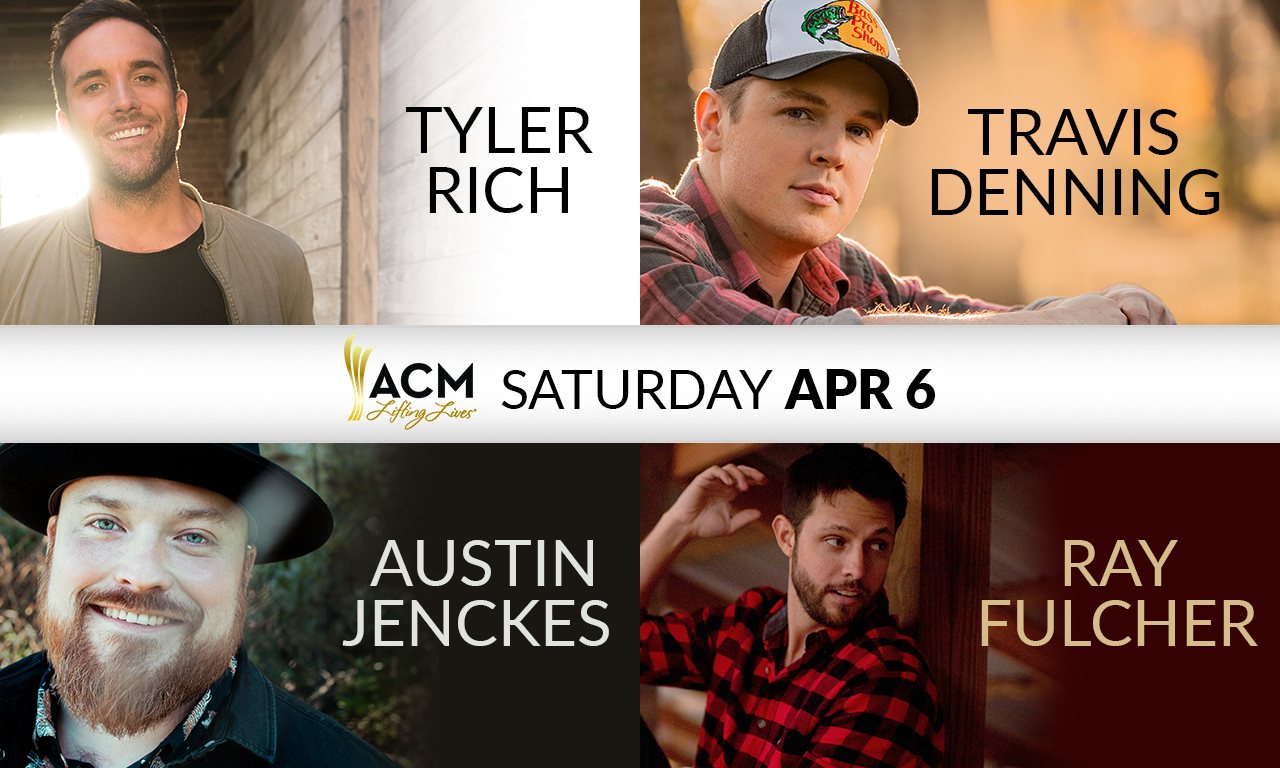 TICKETS AVAILABLE AT THE DOOR AFTER 7PM – WHILE THEY LAST
Tyler Rich, Travis Denning, Austin Jenckes and Ray Fulcher will be performing LIVE on Saturday night, April 6th, 2019 as part of the Stoney's Rockin' Country ACM Lifting Lives shows.
Stoney's Rockin' Country continues to support the ACM Lifting Lives mission.
Through partnerships with artists and strong ties in the music industry, ACM Lifting Lives® develops and funds music-related therapy and education programs, and serves members of the community who face unexpected hardships through its Diane Holcomb Emergency Relief Fund.
This is a 21 and over event.
Raised in Yuba City, a small farming community in Northern California, Tyler Rich found his love of music gathered around a Christmas tree alongside family singing holiday classics and family favorites of all genres including Creedence Clearwater Revival, Michael Jackson, The Beatles and Tom Petty. At age 8 his cousin introduced him to the Country sounds of George Strait, Garth Brooks and Alan Jackson before his grandparents surprised a then 14-year-old with a guitar so he could join in the annual jams. Fast forward to graduating college with a degree in Economics, Tyler moved to LA to pursue a different game of numbers – music – exploring various genres with songwriting and bands before taking the leap as a solo artist.His fanbase has grown from Sacramento supporting his independent release to signing a record deal with The Valory Music Company and publishing agreement with Big Machine Music.While introducing his amplified sound and infectious energy coast to coast,the 2018 CMT Listen Up Artist has moved to Nashville and become a road warrior performing alongside some of the genre's top acts including Dustin Lynch, Sam Hunt, Brett Eldredge, Justin Moore, Cole Swindell, Dan + Shay. His single The Difference is available now!
A native of Warner Robins, Georgia, Mercury Nashville's Travis Denning vividly remembers the moment he realized he wanted to pursue music for a living. He was seven years old sitting in his Dad's truck and heard AC/DC for the first time. From then on, he was hooked and devoured all types of music from country, pop, rock and heavy metal. Travis started playing local bars at the age of 16 and built a solid following from his distinctive songs and raucous guitar licks. He moved to Nashville in 2014 and within a year signed a publishing deal with Jeremy Stover's RED Creative Group. After securing outside cuts by Jason Aldean, Justin Moore, Michael Ray and Chase Rice he caught the attention of Universal Music Group where he eventually signed a record deal in 2017. Travis just released his new single "After A Few" which he co-wrote with Kelly Archer and Justin Weaver following his Top 40 debut single "David Ashley Parker From Powder Springs". Travis was recently selected as a CMA KixStart Artist Scholarship as well as Opry NextStage recipient and will receive unique opportunities to participate in events as well as connect with industry professionals.  The singer/songwriter has previously opened shows for Cole Swindell, Alan Jackson, Chase Rice, LANCO as well as Justin Moore and just launched his first headlining "Heartbeat Of A Small Town" Tour. When Travis is not touring, he is in the studio working on his debut album.
Ask Austin Jenckes about his unwavering need to write and perform music, and as he pauses to gather his thoughts, you can practically see a montage of the country singer-songwriter's life playing before him: a childhood spent watching his father play guitar in the park; high school talent shows; dingy bar gigs; televised singing competitions; publishing deals; Nashville writing rooms; a forthcoming debut album. "But at the root, it's always been me trying to move somebody enough emotionally to pay attention to what I'm singing about," Jenckes says. "Music's always been a way for me to observe and process the world around me."
Melody. Message. That moment in a song when a listener sees his or her life reflected back at them like a mirror—Jenckes lives in service of the song, and it's why he spends every day tirelessly perfecting his craft. The endlessly humble Jenckes will tell you, "I'm just a guy with a guitar singing songs." But his work tells a far more nuanced tale. To hear Jenckes perform is to hear the roots of country music brought into the modern age: all soul and blues and that brand of lyrical honesty and palpable emotion that's long defined the genre's most celebrated artists.  From the serene send-off "In My Head" to the rearview reflection "Fat Kid," Jenckes' best songs are direct dispatches from the never easy but unquestionably rich life he's lived.
Ray Fulcher was born & raised in the small town of Harlem, Georgia and grew up on many of country music's best songwriters & storytellers. Some of his biggest influences were Alan Jackson, Keith Whitley, Lynyrd Skynyrd, Eric Church & George Strait. He was inspired to go out and buy a guitar after seeing an Eric Church concert at the Georgia Theatre in Athens, Georgia when he was 21 years old. Shortly after Ray graduated from the University of Georgia he moved to Nashville, TN to pursue his songwriting & artist career. In 2016 after signing a publishing deal with River House Publishing, Ray released his EP "Here We Go Again" which debuted in the top 10 of the country charts & led to tours with Luke Combs (THIS ONES FOR YOU TOUR 2017) & Morgan Wallen (UP DOWN TOUR 2018) as well as extensive headlining & festivals shows. Ray has stayed busy on the songwriting side of things as well, co-writing 8 songs on Luke Combs Platinum debut album "This Ones For You" including the #1 single "When It Rains It Pours" which has been certified triple platinum. 2019 will see Ray releasing new music produced by Jonathan Singleton (Co-writer of the hit songs: "Red Light" David Nail, "Why Don't We Just Dance" Josh Turner, "Diamond Rings & Old Barstools" Tim Mcgraw, "Yours If You Want It" Rascal Flatts & more). His new single was released on Feb. 15, 2019 & he will be supporting Luke Combs on his sold out "Beer Never Broke My Heart" tour in the summer of 2019.