Smithfield, Stephanie Quayle, Tenille Arts and Bailey Bryan
Smithfield, Stephanie Quayle, Tenille Arts and Bailey Bryan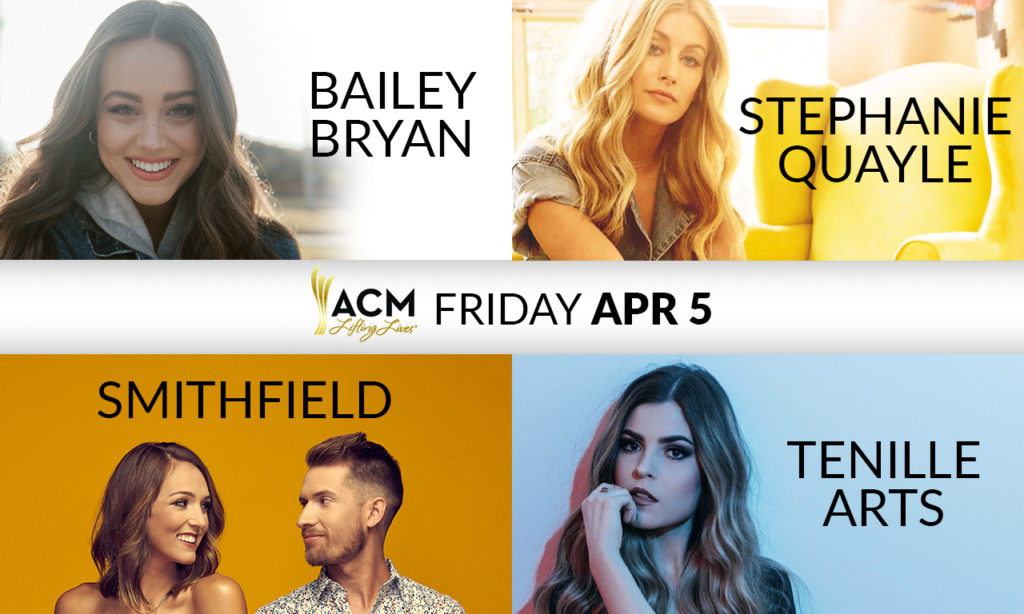 Smithfield, Stephanie Quayle, Tenille Arts and Bailey Bryan will be performing LIVE on Friday night, April 5th, 2019 as part of the Stoney's Rockin' Country ACM Lifting Lives shows.
Stoney's Rockin' Country continues to support the ACM Lifting Lives mission.
Through partnerships with artists and strong ties in the music industry, ACM Lifting Lives® develops and funds music-related therapy and education programs, and serves members of the community who face unexpected hardships through its Diane Holcomb Emergency Relief Fund.
This is an 18 and over event.
SmithField was founded in 2011 with a dream as big as their home state of Texas. Comprised of vocalists Trey and Jennifer, SmithField took the stage by storm with their memorable music and stunning harmonies. Having grown up together, their on-stage chemistry is undeniably genuine and natural.
Country duos are a unique breed in the music industry. Two voices have to blend perfectly together, and that combination is often hard to find, even in two great singers. Against all odds, the duo has continued to persevere with their music and develop their sound, and found that with a lot hard work and passion that anything can be accomplished. After only one year in Nashville, SmithField had already landed opening gigs for established artists including Kane Brown, Scotty McCreery, Granger Smith, Dustin Lynch, Brothers Osborne and Old Dominion.
As a newly inducted member of CMT's Next Women of Country class of 2019,
Stephanie Quayle is celebrating a breakthrough year in country music.
The Rebel Engine Entertainment recording artist was one of the most active female artists with a consistent presence on the Billboard Country Airplay chart, official music video airplay on CMT and a vigorous performance schedule.
The singer-songwriter made her debut on both the Grand Ole Opry and historic Ryman Auditorium stages, along with hosting for Wrangler Network on the ACM Awards red carpet, as well as hosting for Sounds Like Nashville on the CMT Awards and CMA Awards red carpets. And in a once in a lifetime opportunity, she was the only indie act invited to perform for the five living former U.S. presidents (Obama, W. Bush, Clinton, H.W. Bush and Carter) as part of the hurricane relief concert "Deep From The Heart: The One America Appeal" in Texas.
Tenille Arts was born and raised in the small Canadian prairie town of Weyburn, Saskatchewan. Her dream of performing took root at the age of eight, when a neighbor overheard her singing a Shania Twain song in her back yard and encouraged her mom to help her pursue music.
After years of hard work, Tenille began making the long trip to Nashville to advance her songwriting skills. Her determination and talent led to steadily increasing successes, as she earned a publishing deal in Nashville. Her 2016 self-titled debut EP peak at #1 on the iTunes Canada Top Country Album Chart and crack the Top 100 on the U.S. iTunes Country Album Chart.
Bailey Bryan recently shared new music with fans, debuting the vulnerable track and music video for "Songbird." The song, co-written by Bryan and frequent collaborators Dennis Matkosky and Michael Hardy, is the first insight into her upcoming EP slated for release via 300 Entertainment / Warner Music Nashville. Bryan fell in love with storytelling and songwriting at an early age, penning every track on her impactful debut EP So Far. With critics including Rolling Stone and Entertainment Weekly touting her as an "Artist You Need To Know," the Billboard "Chartbreaker" has already turned heads with her "rich songwriting" (New York Times) and infectious sound. The Washington State native has played for live audiences across the country on dates with Kane Brown, label-mates Dan + Shay and major festivals including CMA Music Fest, Stagecoach, and LakeShake.