Brodie Stewart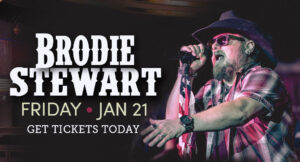 Brodie Stewart is coming through Stoney's Rockin' Country!
Friday night, January 21st, 2022
Doors are at 7pm and the show starts at 10pm!
This is an 18 and over event!
GA 21+ tickets are $10.00 in advance, $15 at the door!
18+ tickets are $15 in advance and $25 at the door!
Brodie Stewart:
Brodie Stewart grew up in the San Francisco Bay Area and Sacramento and spent his summers in Red Bluff, California. At a young age his favorite things to do were going to the Rodeo, listening to country music, singing and playing guitar. Soon enough, Brodie formed and fronted a southern rock band and had the good fortune of touring the country opening up for big artists in front of sold out arenas. His band even charted on Billboard.
With his southern rock roots, Brodie returned to what he loved the most, "country music". While working on tracks for his own band Brodie also wrote and produced songs for various other artists such as "Sweet Isabel" recorded by Enrique Iglesias for his (Interscope Records) Release entitled "Insomniac". Shortly after placing Sweet Isabel with Enrique, Martin Kierszenbaum (President of Cherrytree/Interscope Records) signed Brodie to a song/production deal to the label. Quickly following, Brodie signed a publishing deal with (Warner Chappell Music Publishing). Since that time Brodie has written and produced several tracks for various artists.